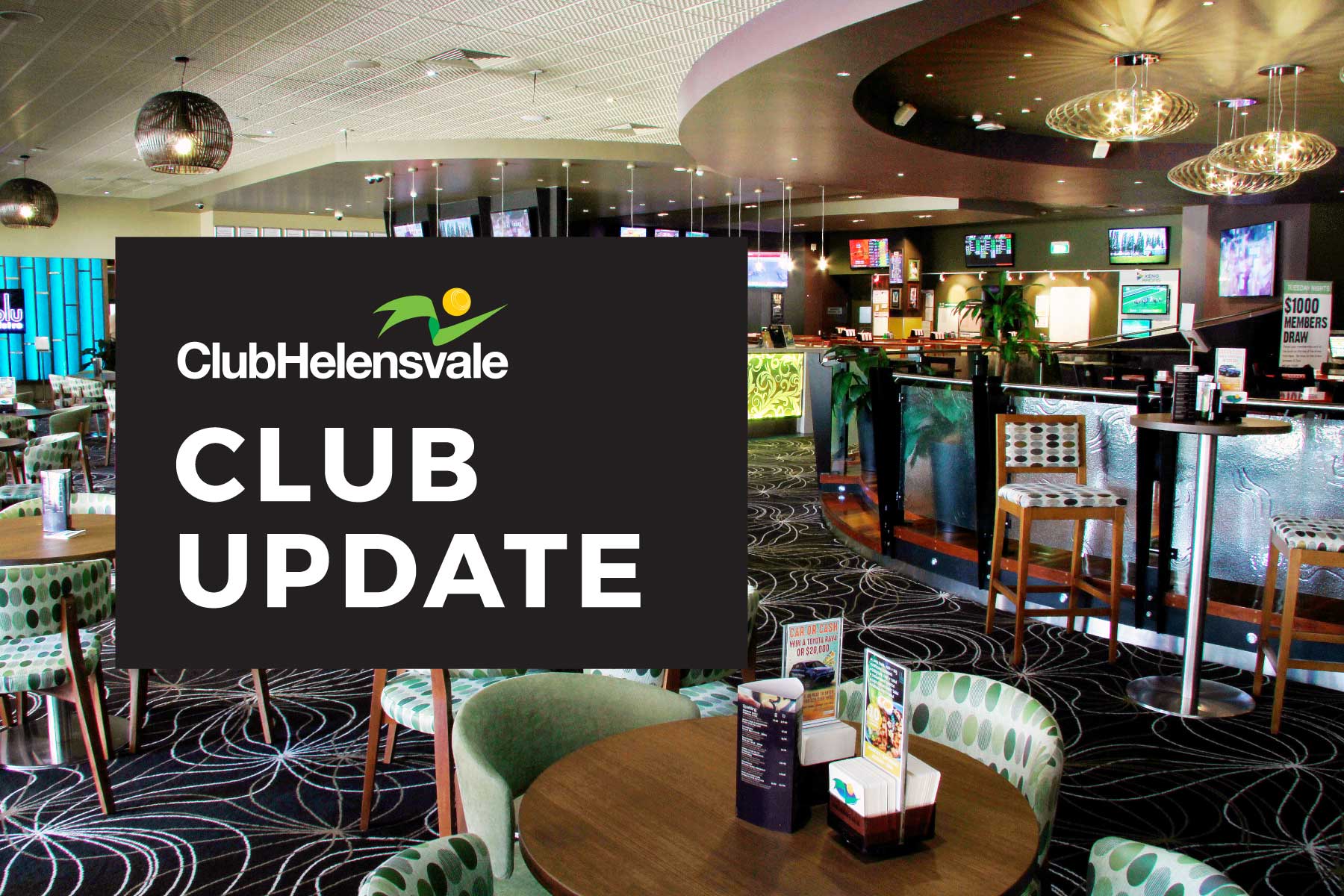 We are excited by the recent announcement from the QLD Premier that our State is moving into stage 3 COVID-19 restrictions from midday Friday July 3. We can now see more of your friendly faces by opening our doors to more patrons, turning on our gaming machines and KENO and welcoming back our popular promotions such as Thursday Steak Night, Kids Eat Free Monday Nights and Meat Raffles.
As valued members of Club Helensvale we want to ensure you are up to date with any changes as we progress through this COVID-19 pandemic. As you can appreciate it has been a difficult time for the entire hospitality and sporting industries; therefore it is imperative that in order to get Club Helensvale thriving once more, which it will, that we took this time to plan for a bigger and better future.
Below you will find information regarding our products and services going forward.
OPENING HOURS
Club Helensvale will open from 10:00am 7 days a week with the exception of Cafe 22 which will be open from 8:30am each morning from Saturday July 4. Closing times will be at the discretion of the Duty Manager until further notice.
A decision regarding the operation of our free courtesy bus is yet to be finalized, however we are looking at easing this back into operation as our visitor numbers increase post COVID.
More updates to our opening and closing hours and the courtesy bus times will be communicated on our website, social media pages and future E-newsletters.
PREMIUM REWARDS
Due to the closure of Club Helensvale, it has been decided to extend the premium points review date from July 7 2020 to September 1 2020. This extension will compensate for our period of closure during COVID-19 and allow members the opportunity to earn status points once all areas of the club are open.
Birthday rewards points will be automatically be applied to your membership card during the months of July and August. Points can be used in the month of your birthday and will automatically expire on the last day of your birthday month.
Correspondence will be sent to members with our new and improved rewards program in advance of September 1. Going forward, rewards levels will be reviewed on September 1 and March 1 each year.
In the meantime, club-wide benefits such as discounts on food and beverages, redeeming points for cash at our cashier box, gaming points multiplier for Ruby and Diamond members and premium birthday bonus points for our Emerald, Ruby and Diamond members still apply.
BAREFOOT BOWLS
Sunday Barefoot Bowls sessions will re-commence on August 2 from 2pm to 4pm. All equipment is supplied.
Barefoot Bowls parties can now be booked by calling our bowls office on 5573 1491.
Check out our function packages which are perfect for birthdays, corporate challenges and Christmas break-up parties!
FAREWELL TO FORMER STAFF
We'd like to take the opportunity to wish Julie Brunt (Operations Manager), Amy Odell (Gaming Manager) and Kylie Ferguson (Marketing Manager) all the best with their future career endeavors. We thank-you for your years of service to Club Helensvale.
CLEANING AND SANITATION
We understand everyone has varying levels of concern around the precautions we need to take to prevent an outbreak of COVID-19. Be assured, Club Helensvale is following the guidelines set out by the QLD Government. Please use the hand sanitizers provided, adhere to social distancing regulations and stay home if you feel sick or are required to self-isolate.