A MESSAGE FROM THE CHAIRMAN
We have faced some challenges in the first half of 2020; however today marks the easing of restrictions in QLD to level 3- it's onward and upward from here! This is great news for the hospitality and sporting industries as we can welcome more patrons into Club Helensvale and welcome back competitive bowls in the not too distant future.
As many members are aware there have been significant changes taking place around the club during this COVID break, so i wanted to take this opportunity to update you all on what you can expect upon returning to the greens.
Upon an extensive review of the bowls department budget, Board and Management have decided to make the following changes to bowls moving forward.
National 5 A Side- regrettably this event has been cancelled for 2020. The club hopes to be in a stronger position in 2021 to bring it back with the addition of an event budget strategy.
Sponsorship of Elite Players- this program has been cancelled effective immediately. The program will be reviewed when the club is in a stronger financial position to support elite bowlers once again.
Representative Incentive Policy- This policy has been terminated effective immediately. Once again this will be reviewed when the club is in a stronger financial position. Players are asked to refer to the Community Benefit Fund if they are experiencing financial hardship due to the demands of their sport.
2020 Pennants- The Gold Coast/Tweed Men's District have cancelled pennants for 2020. This was no doubt a tough decision; but as a club we supported the overall reasoning which led to the final decision. Our women's club have opted not to enter the 2020 pennant season; however the Ladies District will commence pennants on Friday August 14.
2021 Pennants, Q7's and Summer 9's- All players will pay green fees for all home games; Club Helensvale will cover the cost of green fees for all away games.
Social Bowls Prize Money- prize money for all social bowls events will increase from 50% of green fees (previously) to 75% of green fees as of July 3 2020.
Travel Expenses- are to be minimized and assessed on a case by case basis.
Premier League 2021- The expenditure for Premier League is high, however we are hopeful of being in a position to enter teams in 2021; however it is unlikely the club will put in a expression of interest to host finals.
Functions- we regret to inform you that both the Men's and Ladies President's Days have been cancelled in 2020. A presentation afternoon will still be conducted in December 2020 after the success of last year's event.
Budget forecasts have been completed for the 2020-2021 financial year and we are confident of bouncing back bigger and better in the near future. There have been considerable changes to staff, notably the appointment of our new CEO Wayne Moffatt.
Jim Merrick- Chairman of the Board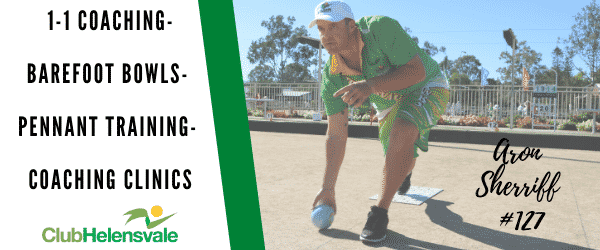 COACHING WITH ARON SHERRIFF
We are lucky to have the services of one of Australia's most accomplished bowlers here at Club Helensvale. Aron Sherriff is a World Champion and main-stayer in the Australian Jackaroos Squad.
Club Helensvale member's have the opportunity to attend Aron's training sessions, but in addition, Club Helensvale will be heavily promoting Advanced Coaching Clinics to attract both members and non-members to take part. There will be Open 2 day Clinics and Under-25 Clinics during the school holidays.
Attendees will receive a pack including a complimentary bowls cloth, lunch vouchers and a special gift. At the conclusion of the clinics, Aron will send feedback and video analysis of participants deliveries to further enhance their skills.
These kind of clinics have been incredibly successful at clubs in Sydney and there is certainly a demand for more elite coaching here in QLD.
Times for members training sessions will be published in the games room and communicated through future correspondence from Lynsey.
Aron will work alongside Club Helensvale's Bowls and Marketing departments to increase the clubs income from barefoot bowls going forward. Make sure you tell your non-bowling friends to book a barefoot party with our World Champion!
FORENSIC AUDIT UPDATE
As members are aware the Board of Club Helensvale requested a forensic audit to be conducted and we have received the findings. The board took extensive legal advice and the appropriate course of action was to hand the findings over to the police. In regards to the defamation case, this is now with our insurance provider. A further update will be provided in due course.
FAREWELL TO FORMER STAFF
We'd like to take the opportunity to wish Julie Brunt (Operations Manager), Amy Odell (Gaming Manager) and Kylie Ferguson (Marketing Manager) all the best with their future career endeavors. We thank-you for your years of service to Club Helensvale.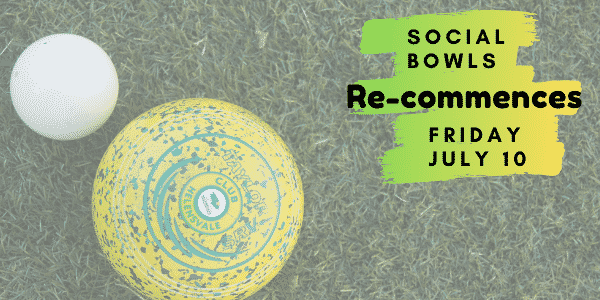 SOCIAL BOWLS RETURNING
Social bowls is set to return on Friday July 10 after the QLD Premier announced stage 3 restrictions would be lifted early. Amendments to the Outdoor Team Sport Industry COVID Safe Plan were submitted by Bowls QLD to the QLD Government last week and they are now awaiting approval from the CHO.
It's important to remember that social distancing regulations are still in place so when you do return to bowls, please follow the instructions of staff and volunteers, carry a personal hand sanitizer, only pick up your own bowls and upon arrival make your way to the Games Office to sign in. We are encouraging contact-less payment methods to reduce the spread of germs.
We'd like to take the opportunity to wish Julie Brunt (Operations Manager), Amy Odell (Gaming Manager) and Kylie Ferguson (Marketing Manager) all the best with their future career endeavors. We thank-you for your years of service to Club Helensvale.
Ladies AGM- Tuesday August 11 at 8:30am
Men's AGM- Saturday August 1 at 8:30am
Nominations will be placed in the bowls room with voting to commence 7 days prior. More information will come in due course.
Ladies Voting Opens- Tuesday August 4
Men's Voting Opens- Saturday July 25
To renew your membership click here
HAWKS RETURN TO BOWLS LEAGUE
We are in the process of organising a competitive 'Hawks Return to Bowls League' for our Members to take part in due to the cancellation of Pennants for the 2020 season.
This new look event will be a Graded 3 Bowl Pairs format (ie. Major & Minor Player or two Minor Players) which will carry a great prize pool and challenging competition on a weekly basis.
It will run for 6 consecutive weeks on a Saturday morning commencing on Saturday 1st August and finishing Saturday 5th September.
Our planning committee is currently working on the finer details and specifics of how this League will look; once it's confirmed Lynsey will get the information and entry sheet out to you all ASAP!
To ensure you don't miss out on any further bowls updates please click here to subscribe to our Club Helensvale Newsletter by clicking SIGN UP on our homepage. 
After a notable absence in 2019, Club Helensvale's prestigious and lucrative National Club 5 A Side is set to make its return to the Australian calendar in 2020.
As promised, the thirteenth edition of this popular event is set to be back bigger and better then ever and will be held from the 7th – 10th September.
Proudly known as one of the best club tournaments in the world, we anticipate another star studded field as the best of the best go head to head in the race to be crowned ultimate 5 A Side champions.
With just twenty spots up for grab in the field, the Club Helensvale 5 A Side is one of the most sought after invitations on the bowls calendar.
If your club would like to be considered for our 2020 field, please submit your expression of interest to our Bowls Coordinator Lynsey Clarke at bowlscoordinator@clubhelensvale.com.au
Please note, all submissions received for the 2019 event will automatically be considered.
Lynsey Clarke
Bowls Coordinator
International Women's Day is celebrated annually on the 8th March, marking the social, economic, cultural and political achievements of women. The day also marks a call to action for accelerating gender parity. In honour of the upcoming day we sat down with one of our high profile female bowlers, Georgia White, who has recently returned from competing internationally at BPL09.
How old were you and why did you start playing bowls?
I was 13 when I started playing bowls. My parents were always playing at the local bowls club, so I decided to get out there and play, rather than sitting on the sidelines watching.
What do you love about bowls?
My favourite thing about bowls is how inclusive it is.  Anyone can play, all ages, all abilities and from all walks of life.
You've just come back from competing in #BPL09 in New Zealand, what was some of the highlights of the event for you?
Representing the Hawks internationally was such an honour. Also playing alongside Nathan Rice and Aron Sherriff, as they are currently some of the best players in the world.
What are some of your aspirations for the future?
I would love to get involved with the development of the sport of bowls in the future.
On a personal level, one of my biggest daily aspirations is to be happy.
Has it always been bowls, or have you ever played any other sports competitively?
I've played a lot of other sports over the years. During high school I was involved in golf, dance, soccer and bowls pretty concurrently.
Nowadays my focus is on bowls and my yoga practice. That is another aspiration, I would love to be a yogi. I think my yoga helps with my focus on the bowls greens.
Even though it does have the traditional gender divide of men's bowls and women's bowls, it is one of the few sports that at an elite competitive level, such as the BPL, that has mixed gender teams. What benefits does a mixed gender team have?
You get different team dynamics with mixed gender teams, it changes up the normal teams you see competing. You can often see the same people in same teams across a number of competitions. It's great to see some different combinations. Women bring a better communication factor and a different point of view. They also bring a little bit of flair and style.
You work, play bowls at a competitive level and are raising a family. How do you balance all those competing commitments?
Sometimes I don't, I think it's pretty common in the busyness of life today to feel the occasional sense of overwhelm. I'm very lucky to have such a supportive workplace in Club Helensvale, and a supportive family, which all helps me to be able to do what I do.
My kids are all also now at an age where everyone helps out and pitches in. I definitely took on less when they were younger.
Who is someone you admire and why?
My sporting hero is Serena Williams. I love her grit and determination and she is my favourite sportsperson to watch compete.
My mum is also such an inspiration to me. She has seen so many changes over her lifetime and taken it all in her stride and achieved so much with all the different things she's experienced and been through.
What is something interesting about you that we might not know?
I am a vegan and it is something I'm really passionate about. I was inspired by my massage therapy teacher a few years ago to become vegan. Now my partner and whole family is vegan as well.
Do you think celebrating International Women's Day is important and why?
International Women's Day is a really important day to me, one that I always mark and encourage my children each year to send notes to the inspiring women in their lives. We've come such a long way in a very short time, historically speaking, in regards to equal rights. It wasn't that long ago women didn't have the right to vote. I think it's important to acknowledge how far we've come and to celebrate it.
NATIONAL $60,000 CLUB 5 A SIDE – EASTBOURNE EAGLES CROWNED ULTIMATE CHAMPIONS
After the 12th staging of this most prestigious event, international raiders Eastbourne Eagles from New Zealand have claimed the Club Helensvale $60,000 National Club 5 a Side in spectacular fashion.
In a rematch of last years Grand Final, the Eagles overcame defending champions Broadbeach Bulls in a nail biting final.
Eastbourne won both pairs and fours matches with a margin of ten shots going into the singles and fours disciplines.
The Bulls Ryan Bester kept their hopes alive by winning his singles match 21 – 18 after a phenomenal last bowl saw him steal the three shots required to take victory.
At this point in time The Bulls had won seven ends in a row to come from behind in their fours match, meaning they required just two shots from the last two ends to claim back to back titles.
The second last end didn't go to plan for the Bulls, with the Eagles finishing off the stronger to claim their first title and the $20,000 first prize by a slender 3 shot margin.
Earlier in the day the Eagles defeated NSW State Pennant Champions Cabramatta Bull Ants in one semi while the Bulls overcame local favourites Helensvale Hawks in the other semi.
The Eagles included four ex Kiwi Internationals Gary Lawson, Jamie Hill, Justin Goodwin and Philip Skoglund, making up the five was Australia's current number 1 ranked player David Ferguson.
Hill was their only change from last years event after being a late withdrawal in 2017. Mike Carroll made way for Hill to return and took up the role as team manager.
In exciting news for the sport of bowls in NZ, hot off the press during our post game interview, Gary Lawson has declared himself back out of retirement after the Eagles maiden victory today!
Congratulations to all our finalists, competitors and very worthy champions on making this the best competition in the world – what a privilege to have witnessed such outstanding games on our greens over the last four days.
Don't forget all of today's action was professionally live streamed so if you missed any of the excitement it can all be relived by visiting our Club Helensvale Facebook page.
For further information contact:
Lynsey Clarke – 0401 643 958
bowlscoordinator@clubhelensvale.com.au
The Australian Open was held on the Gold Coast again for the fourth successive year and was a resounding success. Known as the World's Biggest Bowls Festival, it was fantastic to see another big bowls sporting event here on the Gold Coast so soon after the Commonwealth Games. With $250,000 in prize money there was a world class field of competitors rolling up. We held  a number of the Open events here on Club Helensvale greens from the 9th through to the 20th June and it was great to see both old and new faces frequenting the club.
A massive thank you must be extended to over fifty of our hard working and helpful club members who volunteered their time throughout the event to ensure the bowls side of the tournament ran smoothly – your assistance was invaluable. Thanks also to our management and staff for their warm and welcoming hospitality. When I was speaking to players around the bowls circuit, everyone was extremely complimentary of our greens, volunteers, and our club facilities, with most players wishing they could have more matches at Club Helensvale! Well done to all involved.
With many of our members competing in the event, we had much success on the greens as well. Nathan Rice and his team (Ryan Burnett, Jeremy Henry, and Alex Marshall) secured the Gold Medal in the men's fours after defeating fellow Hawks Aron Sherriff, Jayden Christie and their team (Barrie Lester and Josh Thornton) on the last bowl of the match – one of the best quality finals in Australian Open history. Our young junior Jessie Cottell also secured a Gold Medal in the Girls U18 Singles event, defeating fellow Queenslander Rebecca Rixon 21 – 14. Some other notable performances were that of Ted Read and Allan Cumberford who made it to the semi final of the men's over 60 pairs, and Shane Kerr who made the quarter final of the multi disability singles event.
Well done to all our members who won events, but also to those that were out there competing and giving it their best on the day. It was great to see so many Hawks shirts at all the different clubs around the Coast.