NATIONAL $60,000 CLUB 5 A SIDE – EASTBOURNE EAGLES CROWNED ULTIMATE CHAMPIONS
After the 12th staging of this most prestigious event, international raiders Eastbourne Eagles from New Zealand have claimed the Club Helensvale $60,000 National Club 5 a Side in spectacular fashion.
In a rematch of last years Grand Final, the Eagles overcame defending champions Broadbeach Bulls in a nail biting final.
Eastbourne won both pairs and fours matches with a margin of ten shots going into the singles and fours disciplines.
The Bulls Ryan Bester kept their hopes alive by winning his singles match 21 – 18 after a phenomenal last bowl saw him steal the three shots required to take victory.
At this point in time The Bulls had won seven ends in a row to come from behind in their fours match, meaning they required just two shots from the last two ends to claim back to back titles.
The second last end didn't go to plan for the Bulls, with the Eagles finishing off the stronger to claim their first title and the $20,000 first prize by a slender 3 shot margin.
Earlier in the day the Eagles defeated NSW State Pennant Champions Cabramatta Bull Ants in one semi while the Bulls overcame local favourites Helensvale Hawks in the other semi.
The Eagles included four ex Kiwi Internationals Gary Lawson, Jamie Hill, Justin Goodwin and Philip Skoglund, making up the five was Australia's current number 1 ranked player David Ferguson.
Hill was their only change from last years event after being a late withdrawal in 2017. Mike Carroll made way for Hill to return and took up the role as team manager.
In exciting news for the sport of bowls in NZ, hot off the press during our post game interview, Gary Lawson has declared himself back out of retirement after the Eagles maiden victory today!
Congratulations to all our finalists, competitors and very worthy champions on making this the best competition in the world – what a privilege to have witnessed such outstanding games on our greens over the last four days.
Don't forget all of today's action was professionally live streamed so if you missed any of the excitement it can all be relived by visiting our Club Helensvale Facebook page.
For further information contact:
Lynsey Clarke – 0401 643 958
bowlscoordinator@clubhelensvale.com.au
The Australian Open was held on the Gold Coast again for the fourth successive year and was a resounding success. Known as the World's Biggest Bowls Festival, it was fantastic to see another big bowls sporting event here on the Gold Coast so soon after the Commonwealth Games. With $250,000 in prize money there was a world class field of competitors rolling up. We held  a number of the Open events here on Club Helensvale greens from the 9th through to the 20th June and it was great to see both old and new faces frequenting the club.
A massive thank you must be extended to over fifty of our hard working and helpful club members who volunteered their time throughout the event to ensure the bowls side of the tournament ran smoothly – your assistance was invaluable. Thanks also to our management and staff for their warm and welcoming hospitality. When I was speaking to players around the bowls circuit, everyone was extremely complimentary of our greens, volunteers, and our club facilities, with most players wishing they could have more matches at Club Helensvale! Well done to all involved.
With many of our members competing in the event, we had much success on the greens as well. Nathan Rice and his team (Ryan Burnett, Jeremy Henry, and Alex Marshall) secured the Gold Medal in the men's fours after defeating fellow Hawks Aron Sherriff, Jayden Christie and their team (Barrie Lester and Josh Thornton) on the last bowl of the match – one of the best quality finals in Australian Open history. Our young junior Jessie Cottell also secured a Gold Medal in the Girls U18 Singles event, defeating fellow Queenslander Rebecca Rixon 21 – 14. Some other notable performances were that of Ted Read and Allan Cumberford who made it to the semi final of the men's over 60 pairs, and Shane Kerr who made the quarter final of the multi disability singles event.
Well done to all our members who won events, but also to those that were out there competing and giving it their best on the day. It was great to see so many Hawks shirts at all the different clubs around the Coast.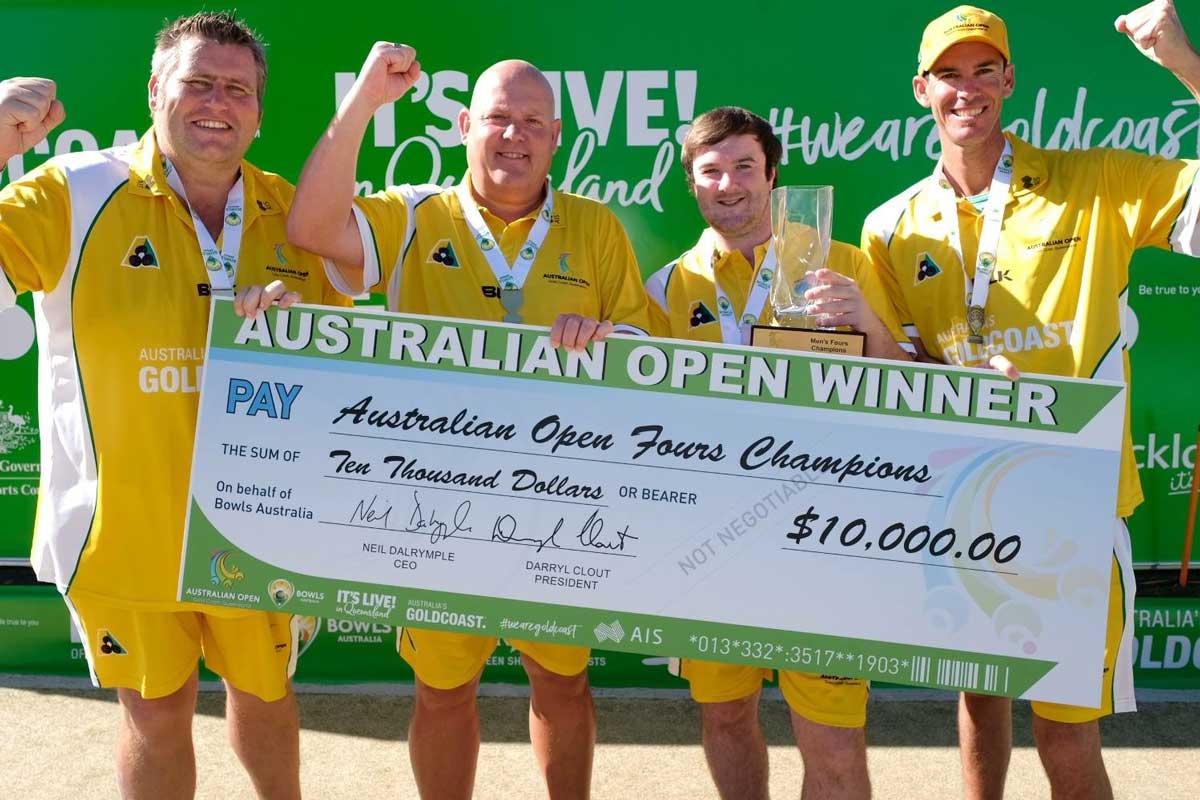 Club Helensvale's own player Jayden Christie has garnered some attention recently when he surged ahead seven positions in the National Player Rankings to join the top 15 players at only 18 years of age. He jumped ahead in the rankings following his win with Broadbeach player Sean Ingham in the tier 3 Ballina Summerland Pairs.
Despite his youth, he has been involved in the sport of bowls for eleven years and has achieved some amazing things as a junior bowler. He played internationally at the age of 15 representing Victoria in the Trans-Tasman challenge against New Zealand. Jayden moved to Queensland from Victoria with his family in 2015. He has since said his development in the sport has accelerated since joining the Club Helensvale stable of players with such great mentors such as Brett Wilkie, Lynsey Clarke, Nathan Rice and Mark Casey as clubmates. Mark Casey and Christie together won the State Champion of Champion pairs title in 2016 and make solid and unstoppable duo. Mark Casey says Christie is "the best junior he has ever seen…with a really good future ahead of him".
Jayden has some big dreams and lofty goals. In feature by the Gold Coast Bulletin on upcoming sports starts he announced that he is aiming to get on the Queensland Open Side and then the Australian squad with the ultimate goal of representing Australia at the Commonwealth Games to be held on the Gold Coast in 2018. We predict great things in the future for Jayden Christie and he is a bowls player to watch! We're very proud to have him playing for Club Helensvale.