NATIONAL $60,000 CLUB 5 A SIDE – EASTBOURNE EAGLES CROWNED ULTIMATE CHAMPIONS
After the 12th staging of this most prestigious event, international raiders Eastbourne Eagles from New Zealand have claimed the Club Helensvale $60,000 National Club 5 a Side in spectacular fashion.
In a rematch of last years Grand Final, the Eagles overcame defending champions Broadbeach Bulls in a nail biting final.
Eastbourne won both pairs and fours matches with a margin of ten shots going into the singles and fours disciplines.
The Bulls Ryan Bester kept their hopes alive by winning his singles match 21 – 18 after a phenomenal last bowl saw him steal the three shots required to take victory.
At this point in time The Bulls had won seven ends in a row to come from behind in their fours match, meaning they required just two shots from the last two ends to claim back to back titles.
The second last end didn't go to plan for the Bulls, with the Eagles finishing off the stronger to claim their first title and the $20,000 first prize by a slender 3 shot margin.
Earlier in the day the Eagles defeated NSW State Pennant Champions Cabramatta Bull Ants in one semi while the Bulls overcame local favourites Helensvale Hawks in the other semi.
The Eagles included four ex Kiwi Internationals Gary Lawson, Jamie Hill, Justin Goodwin and Philip Skoglund, making up the five was Australia's current number 1 ranked player David Ferguson.
Hill was their only change from last years event after being a late withdrawal in 2017. Mike Carroll made way for Hill to return and took up the role as team manager.
In exciting news for the sport of bowls in NZ, hot off the press during our post game interview, Gary Lawson has declared himself back out of retirement after the Eagles maiden victory today!
Congratulations to all our finalists, competitors and very worthy champions on making this the best competition in the world – what a privilege to have witnessed such outstanding games on our greens over the last four days.
Don't forget all of today's action was professionally live streamed so if you missed any of the excitement it can all be relived by visiting our Club Helensvale Facebook page.
For further information contact:
Lynsey Clarke – 0401 643 958
bowlscoordinator@clubhelensvale.com.au
What an amazing spectacle the GC2018 Commonwealth Games was for our fabulous city, community and competing athletes. To see our beautiful Gold Coast shine in such a great light across the World was something very special. Our proud little city put on an extraordinary showcase that saw us witness once in a lifetime events, achievements, and medal glory.
At the completion of the 12 day multi sport event, our talented Australian team, of over 700 people, sat atop of the medal tally leader-board, finishing with a total of 198 medals – 80 Gold, 59 Silver, and 59 Bronze.
Closer to home was the performance of our bowls team, the Jackaroos. Our Jackaroos finished as the fourth most prolific gold medal winning Australian sporting team behind our swimming, athletics and cycling track teams. Our Jackaroos secured 5 Gold medals and 2 silver medals from the ten disciplines they competed in.
Aaron Wilson won Gold in the men's singles while the women also won two gold in the fours and triples. Our para triples team and vision impaired mixed pairs also won Gold in their disciplines as well. What a tremendous campaign, we here at Club Helensvale as well as the entire nation are super proud of your achievements.
Our men had a great campaign also. In the men's singles Aaron Wilson topped his section in the blue ribbon event. He faced some tough competition along the way but it would be him who stood victorious on the final day of play, defeating Ryan Bester 21 -1 4 in the Gold medal match.
Our men's pairs combo of Brett Wilkie and Aaron Wilson were unlucky to bow out in the quarter final stage of their discipline. They topped their section, however ran in to a red hot Malta team in the quarter and were defeated 15 – 13.
The triples side of Barrie Lester, Nathan Rice and Aron Sherriff lost just one match in their pool games. They finished second in their group and would storm in to the grand final of this discipline. They endured a spectacular tussle against Scotland for the Gold but were beaten 19 – 14 and took home a Silver medal.
Our men's fours of Barrie, Brett, Nathan and Aron steered their way through the round matches and with solid wins in their quarter and semi, they faced a tough assignment against Scotland for Gold. We led the whole way, however the last end would see some epic bowls go down from the Scots, our boys heartbreakingly losing a count of 4 to finish on the wrong side of the 15 – 13 scoreline, winning a Silver medal this time.
At the completion of the Commonwealth Games, our very own Brett Wilkie announced he would be retiring from Australian representation to spend more time with his family and focus on his relatively new role as CEO of Bowls Queensland. It was an emotional departure and he will be sorely missed by his fellow Jackaroos.
We would like to congratulate heartily our own Club Helensvale players who had the honour of representing Australia. Congratulations to Brett Wilkie, Nathan Rice and Aron Sherriff who on their Silver medal wins, we couldn't be prouder of you.
Come see our GC2018 Commonwealth Games Athlete – Brett Wilkie when he carries the Queen's Baton in the relay on Sunday 1st April.
The Queen's Baton Relay has been a tradition of the Commonwealth Games since 1958. Inside the baton is a message from Her Majesty Queen Elizabeth II that calls for the Commonwealth's athletes to come together is a peaceful and friendly competition. Prior to the 1998 Kuala Lumpur Games the baton only travelled through England and the Games host country.
The GC 2018 Baton Relay will be the longest ever in the Games history and will travel through all nation and territories of the Commonwealth. It started on 13th March 2017 at Buckingham Palace and will have traveled 230,000kms over 388 days by the journey end at the Opening Ceremony.
Our GC2018 Commonwealth Games Athlete Brett Wilkie will have the honour of being Baton Bearer #75 before he competes in the upcoming Games. His leg of the relay is on  Sunday 1st April 5.13pm at 75 Discovery Drive Helensvale. It is suggested that anyone who wishes to be there cheering him on be at the starting location at least 15 minutes early in case the Relay is running ahead of schedule.
Here at Club Helensvale we are lucky enough to boast two other members that will have the honour of carrying the Baton through the latter stages of it's journey to the opening ceremony – Anthony Fantini and Mark Casey.
The details of their legs of the relay are as follows –
MARK CASEY: Monday 2nd April 11.55am at the End of Loders Creek Bridge Marine Parade Southport. Baton Bearer #74.
ANTHONY FANTINI: Wednesday 4th April 10.20am at Malibu Apartments Breaker Street Main Beach. Baton Bearer #16.
It would be great to see as many of our members as possible at these legs, cheering on our Hawks stars as they take part in this once in a lifetime opportunity.
Good luck and carry the baton with pride.
Our home town is set to be on the world stage with the City of Gold Coast hosting the 2018 Commonwealth Games on the 4th to 15th April. The excitement has been building and building as the Games venues and facilities have transformed the city.
Congratulations to the Australian Jackaroos who have been chosen to represent our country on the greens at the Games. We are thrilled to have three of our very own Helensvale Hawks as part of the team. Well done Nathan Rice and Brett Wilkie and the recent addition to the Club Helensvale stable of players, Aron Sherriff!
Our Club Helensvale bowlers are so excited to be part of the upcoming mega multi sport event which will be the 2018 Gold Coast Commonwealth Games. In bowls, there's no bigger stage, and the thrill of being able to compete in front of a massive patriotic Aussie home crowd will be second to none.
It's such an honour and privilege to wear the Green and Gold uniform in any sport at any event, but the Commonwealth Games is really something special. Unofficially known as 'the friendly Games', the spirit and sportsmanship on display amid the highest level of elite fierce competition is completely unique and ensure there'll be memories to last a lifetime.
Our Helensvale bowlers have a rich history on the Games stage with our players bringing home Gold, Silver and Bronze medals from the Melbourne, Delhi, and Glasgow Games. Our team will be striving to add to that prestigious trophy cabinet and we'll be cheering them on all the way.
The Gold Coast has become the mecca for Bowls across the Nation, during the games our backyard will be on show across the world to millions of people and we can't wait to see it all unfold.  Make sure to keep an eye on our facebook page for updates during the Games!
We will have a fun party atmosphere at the Club during the Commonwealth Games with decorations, special promotions  and the bowls events live streamed up on the big TV screen, so make sure to come on in and cheer them on as they strive for gold.
Good luck to our amazing Aussie Hawks, you'll do us proud – GO FOR GOLD!
The Bowls Premier League is one of the biggest and most exciting competitions with it's lightning fast format and top Australian and New Zealand teams competing. BPL06 is just under two months away and the buzz is already starting to build across the country and within our local bowls community in anticipation of our calendars most colourful and exciting event.
Personally I'm so excited to be part of both another BPL event and our mighty Gold Coast Hawks franchise this year. I can't wait to hit the greens with my great friends and two of the world's best bowlers in Mark Casey and Brett Wilkie.
We've experienced success alongside each other at International, National, and State level, but are yet to team up together in the fun, fast paced BPL format. We have a unique bond, rivalled by no other franchise, which has been created over nearly 15 years of playing together in the Helensvale, Queensland, and Australian colours.
We know each others game styles really well, where our strengths lie, and what brings the best out in each other. I think we have such a great balance of consistency, flair, power, and presence that we will definitely be a force to be reckoned with this year.
We have such a great supporter base too, a sea of green and gold in the crowd, so that definitely helps when trying to get over the line in those crucially tight matches. It's such a short sharp style of match play so every little advantage we can utilise will make a big impact when it comes to tasting ultimate success.
The competition is going to be fierce – the best of the best – but I believe 2017 really could be our best chance at obtaining that elusive BPL title.
Nathan Rice will be guiding us in the coach/mentor role, so no doubt we'll be ready to roll – all guns blazing come opening day of play on the 14th November!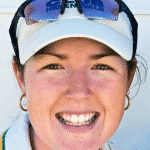 Author: Lynsey Clarke
Gold Coast Hawk,  Australian Team Captain, Commonwealth Games Gold Medallist